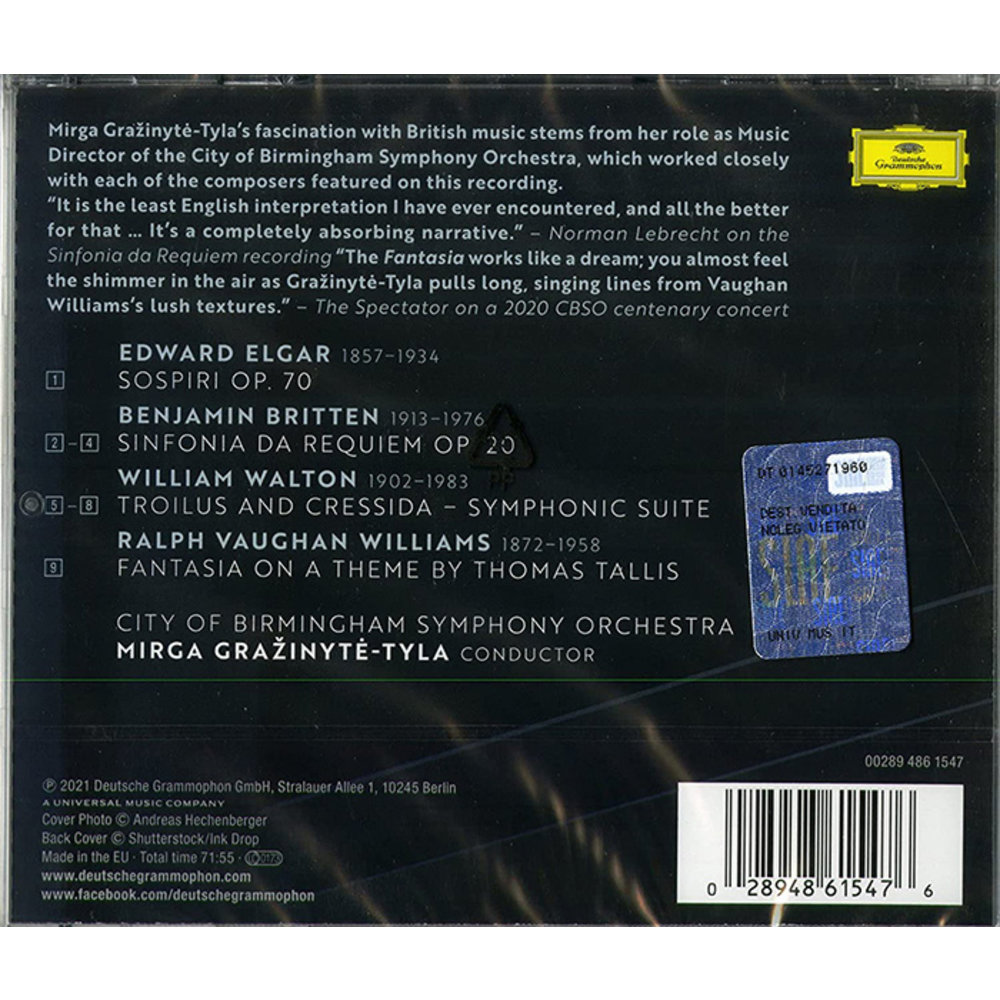 Mirga Gražinytė-Tyla: The British Project
City Of Birmingham Symphony Orchestra, Mirga Gražinytė-Tyla
| | |
| --- | --- |
| Componist | William Walton Elgar |
| Label | Deutsche Grammophon |
| Sku | 002894861547 |
| EAN | 028948615476 |
Voor de mooiste klassieke muziek...
....ga je naar KLASSIEK.NL
Gratis verzending vanaf € 25,00
Passie voor klassieke muziek!
Beschrijving
Mirga Gražinytė-Tyla en het City of Birmingham Symphony Orchestra zetten The British Project voort met dit album met werken uit de opera Troilus en Cressida van William Walton en werken van Elgar. De opname bestaat uit de vierdelige Symphonic Suite, herwerkt en gearrangeerd op basis van de originele operamuziek van Christopher Palmer. De CBSO en zijn charismatische dirigent brengen alle charme, branie en weelderige klanken van deze muziek over in een uitvoering die live is vastgelegd in de Elbphilharmonie in Hamburg.
Troilus en Cressida bevat enkele van de meest verleidelijke werken uit de muziek van William Walton, zoals te horen is op het nieuwe album van Mirga Gražinytė-Tyla en de CBSO – hun tweede voor The British Project op Deutsche Grammophon. Mirga Gražinytė-Tyla heeft genoten van het verkennen van Britse muziek sinds haar aanstelling als muziekdirecteur van CBSO vijf jaar geleden. Haar recente seizoenen in Birmingham bevatten partituren van componisten die in de decennia na de oprichting in 1920 met het CBSO hebben samengewerkt, van Benjamin Britten en Michael Tippett tot Ruth Gipps en Thea Musgrave. Afgelopen oktober lanceerde zij met haar orkest The British Project met een vertolking van Brittens Sinfonia da Requiem.
William Walton, geboren in 1902, smeedde een sterke relatie met de CBSO. Hij dirigeerde het orkest in de wereldpremière-opname van zijn Sinfonia concertante twee maanden na het einde van de Tweede Wereldoorlog en zijn muziek blijft centraal staan ​​op het repertoire. In 1947 begon hij te werken aan zijn eerste grote opera, Troilus en Cressida , een tragisch liefdesverhaal gebaseerd op het gelijknamige gedicht van Geoffrey Chaucer en dat zich afspeelt tijdens het tiende jaar van de Trojaanse oorlog.
Walton was van plan om te creëren wat hij omschreef als een 'Engelse bel canto'- opera, compleet met virtuoze aria's, tedere liefdesscènes en sfeervolle refreinen. Hij werkte aan de partituur bijna tot de eerste productie in december 1954 in het Royal Opera House, Covent Garden. Hoewel de première door een criticus werd geprezen als "het meest trotse uur voor de Britse opera sinds Peter Grimes van [Britten] ", is het werk sindsdien zelden opgevoerd. Na Waltons dood in 1983 nodigde zijn uitgever Christopher Palmer uit om een ​​orkestsuite van Troilus en Cressida te arrangeren . Het werk van Palmer, dat iets meer dan dertig minuten duurde en de meeste van de belangrijkste muzikale momenten van de opera omvatte, werd geleid door zijn verlangen "zo trouw mogelijk te blijven aan Waltons originele tekst".
"Ik droom ervan de hele opera te dirigeren", zegt Mirga Gražinytė-Tyla. "Muzikaal en dramatisch is het superintens – heel virtuoos, heel rijk, met prachtige liefdesthema's. Ik hoor echo's van Korngold en Richard Strauss, maar harmonisch is het ongelooflijk onverwacht: je blijft je verbazen. Het was een genot om Christopher Palmer's suite van lyrische en dramatische muziek te ontdekken met mijn geweldige CBSO-collega's en de pure schoonheid van Waltons schrijven te ontdekken."
Gražinytė-Tyla zal aan het einde van het seizoen 2021-2022 haar huidige functie in Birmingham neerleggen om hoofdgastdirigent van CBSO te worden. Ze blijft elders veel gevraagd als gastdirigent en gaat dit voorjaar aan de slag met het Symphonieorchester des Bayerischen Rundfunks en het Royal Stockholm Philharmonic Orchestra. Haar DG-debuutalbum, bestaande uit Weinbergs Symphonies Nos.2 en 21 opgenomen met de CBSO en Kremerata Baltica, won zowel de Orchestral-categorie als de felbegeerde Recording of the Year Award op de 2020 Gramophone Awards.