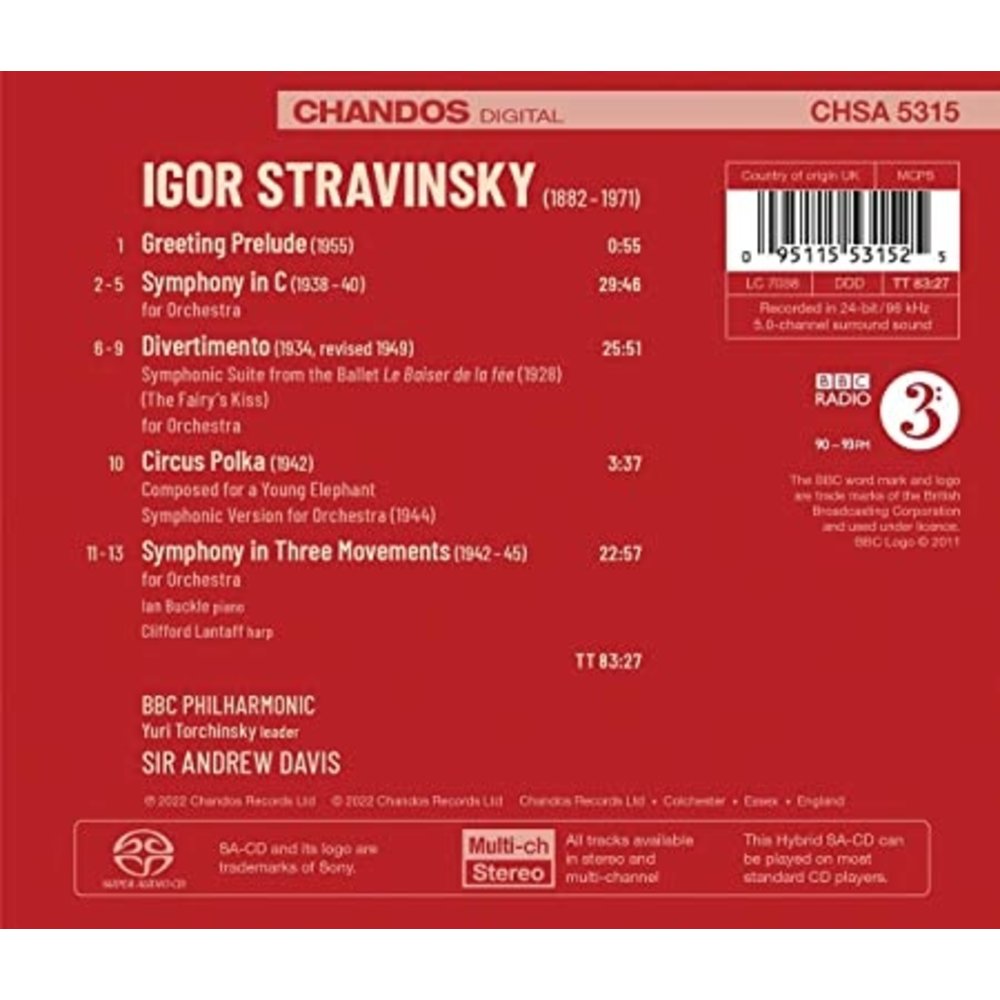 STRAVINSKY: ORCHESTRAL WORKS
Andrew Davis, BBC Philharmonic Orchestra
| | |
| --- | --- |
| Componist | Stravinksy |
| Label | CHANDOS |
| Aantal | 1 |
| Sku | 1553152130028 |
| EAN | 095115531525 |
Voor de mooiste klassieke muziek...
....ga je naar KLASSIEK.NL
Gratis verzending vanaf € 25,00
Passie voor klassieke muziek!
Beschrijving
De Symfonie in C werd eind jaren dertig in Parijs geschreven, maar in 1940 in Amerika voltooid, en is opgedragen aan het Chicago Symphony Orchestra ter gelegenheid van zijn vijftigste verjaardag. In opdracht van de New York Philharmonic en in première gegaan in 1946, presenteert de Symfonie in Drie Bewegingen ons delen die ook verschillende manieren van bewegen vertonen: een mars, een langzame dans en een mars-jog-race. De Greeting Prelude werd geschreven als eerbetoon aan Pierre Monteux, dirigent van de premières van Pétrouchka en The Rite of Spring, voor zijn tachtigste verjaardag, en werd op diezelfde dag voor het eerst uitgevoerd door het Boston Symphony Orchestra: 4 april 1955. De andere twee stukken op het album weerspiegelen Stravinsky's levenslange betrokkenheid bij het ballet. Het Divertimento is een orkeststuk dat Stravinsky ontleende aan zijn ballet The Fairy's Kiss. Het ballet was een hommage aan Tsjaikovski, gebaseerd op liederen en pianostukken van hem, aan elkaar genaaid en georkestreerd met Stravinskiaanse gaafheid. De Circus Polka was een opdracht van Stravinsky's oude medewerker George Balanchine, die door het Ringling Bros. and Barnum & Bailey Circus was gevraagd een dans voor olifanten te creëren. De hier gehoorde versie is de orkestversie van de componist zelf; het origineel was geschreven voor circusband en orgel door David Raksin, en uitgevoerd door vijftig olifanten en vijftig danseressen!