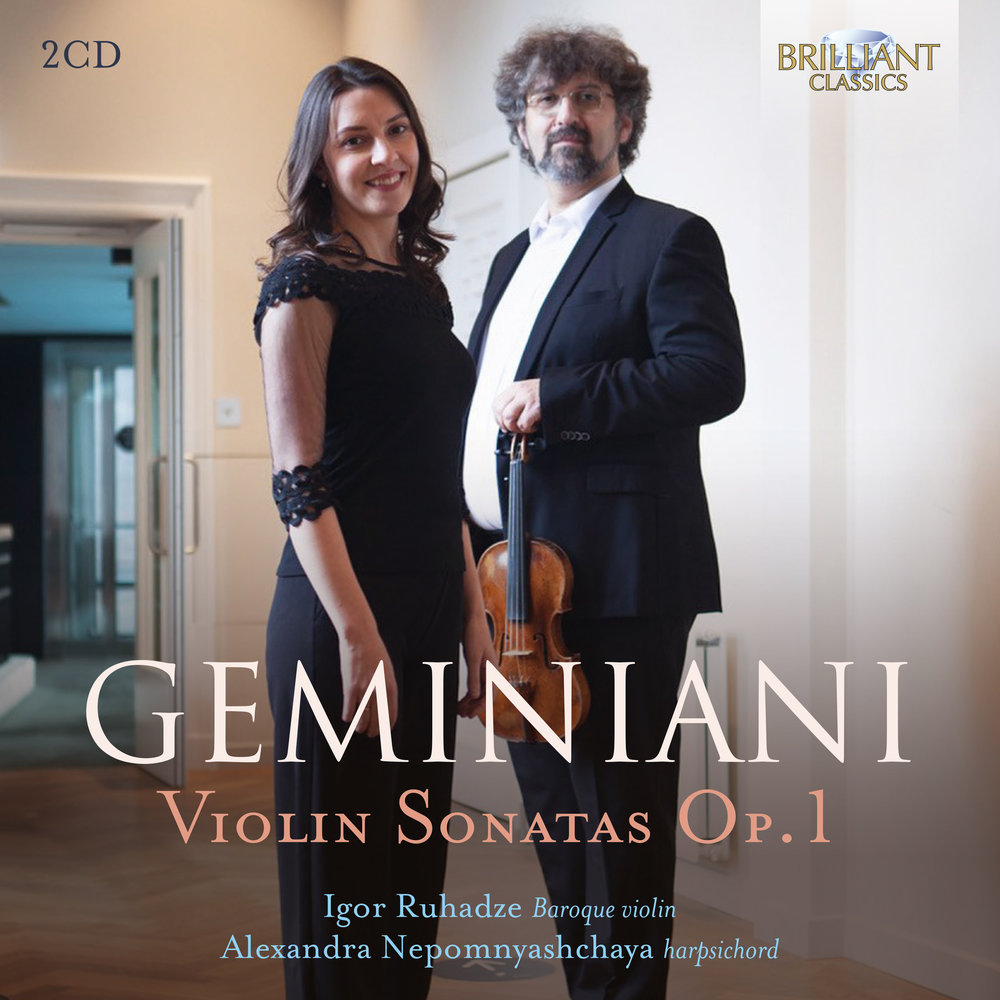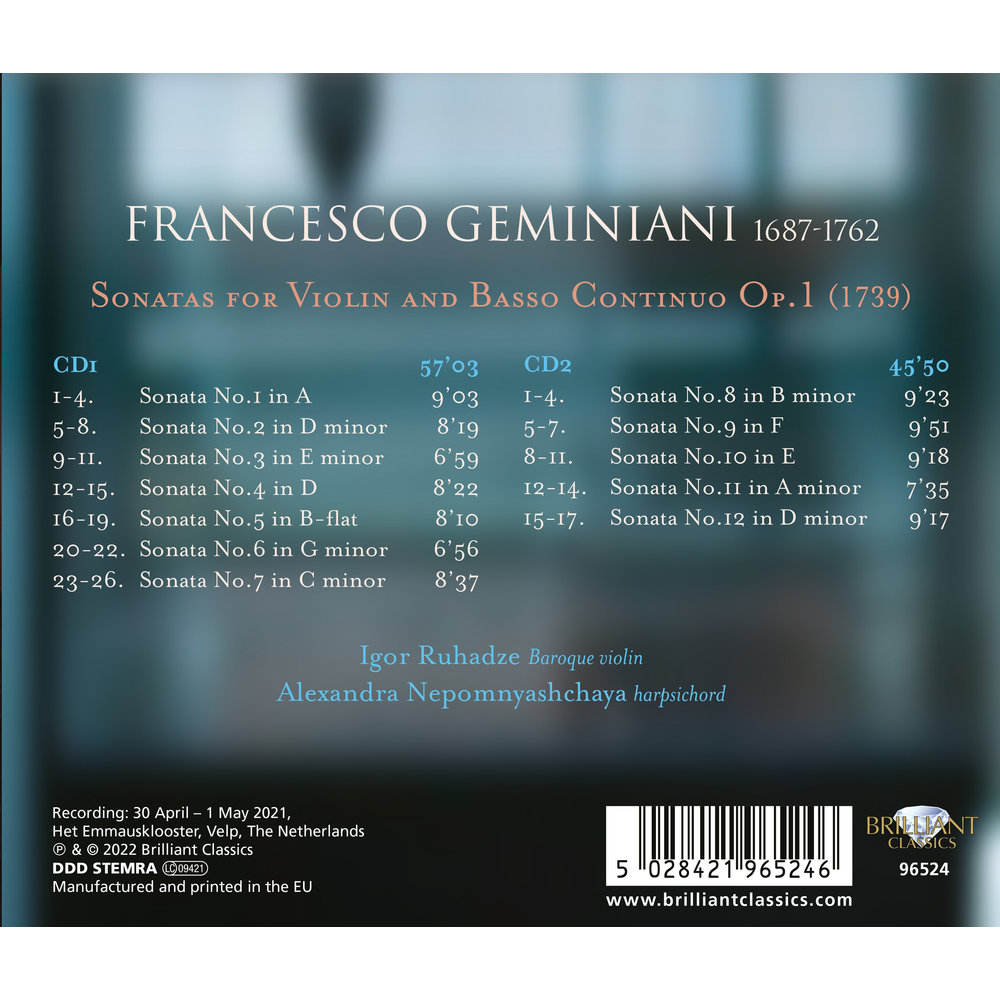 GEMINIANI: VIOLIN SONATAS OP. 1
Alexandra Nepomnyashchaya, Igor Rughadze
| | |
| --- | --- |
| Componist | Geminiani |
| Label | Brilliant Classics |
| Aantal | 2 |
| Sku | 96524 |
| EAN | 5028421965246 |
Voor de mooiste klassieke muziek...
....ga je naar KLASSIEK.NL
Gratis verzending vanaf € 25,00
Passie voor klassieke muziek!
Beschrijving
De start van een spannende nieuwe serie: de opname van de complete werken van Francesco Geminiani! Francesco Saverio Geminiani (1687-1762) werd geboren in Lucca. Hij begon zijn studie op jonge leeftijd bij zijn vader, maar zijn belangrijkste lessen volgden in zijn jaren bij de grote Italiaanse meester, Arcangelo Corelli. Lessen in compositie bij Alessandro Scarlatti hielpen hem zijn vak te inspireren en te verstevigen. In 1714 vestigde Geminiani zich in Londen, waar hij snel faam verwierf als ensemblespeler, concertviolist en leraar. Hier raakte hij bevriend met Händel en leidde hij het orkest tijdens vele gezamenlijke optredens. Geminiani genoot groot succes, niet alleen in Londen, maar ook in Ierland waar hij een aanzienlijke tijd verbleef. In 1760 vestigde hij zich in Dublin, waar hij in 1762 in ietwat verarmde omstandigheden overleed. Geminiani's spel onderscheidde zich door zijn grote expressiviteit, rijkdom aan dynamische kleuren, buitengewone levendigheid, en een sterk temperament. Tartini noemde Geminiani veelzeggend "il furibondo" - de woedende! In 1716 werden de 12 sonates voor viool en continuo op.1 in Londen gepubliceerd als 'Sonate a violino, violone e cembalo'. Ze weerspiegelen sterk de invloed van Corelli's vioolsonates. Het zijn veeleisende werken met een breed scala aan expressies, variërend van droefheid en introspectie tot uitbundige bravoure. De violist Igor Ruhadze werd opgeleid tot virtuoos op de moderne viool. Zijn interesse bracht hem echter in de oude muziek, waar hij speelde met ensembles als Musica ad Rhenum, Jed Wentz en anderen. Zijn solide techniek stelt hem in staat om de vaak angstaanjagende moeilijkheden van Geminiani's muziek met gemak, charme en briljantie aan te pakken. Voor Brilliant Classics nam hij de complete werken van Locatelli op, vioolsonates van Biber, vioolconcerten van Leclair en anderen. De pianiste en klaveciniste Alexandra Nepomnyashchaya studeerde in 2009 af aan het Department of Historical and Modern Art Performance aan het Moscow State Tchaikovsky Conservatory uit de klas van professor Olga Martynova, waar ze piano, klavecimbel en fortepiano studeerde. Ze vervolgde haar studie aan het Conservatorium van Amsterdam, waar ze een masterdiploma behaalde bij Richard Egarr en Menno van Delft. In 2015 studeerde Alexandra af aan de Hochschule für Musik und Theater in München bij Prof. Christine Schornsheim. Alexandra won topprijzen bij concoursen waaronder het International Festival of Early Music in Oostenrijk, de All-Russian Harpsichord Competition in St. Petersburg, de Prague Spring International Competition en de International Johann Sebastian Bach Competition Leipzig in 2014.