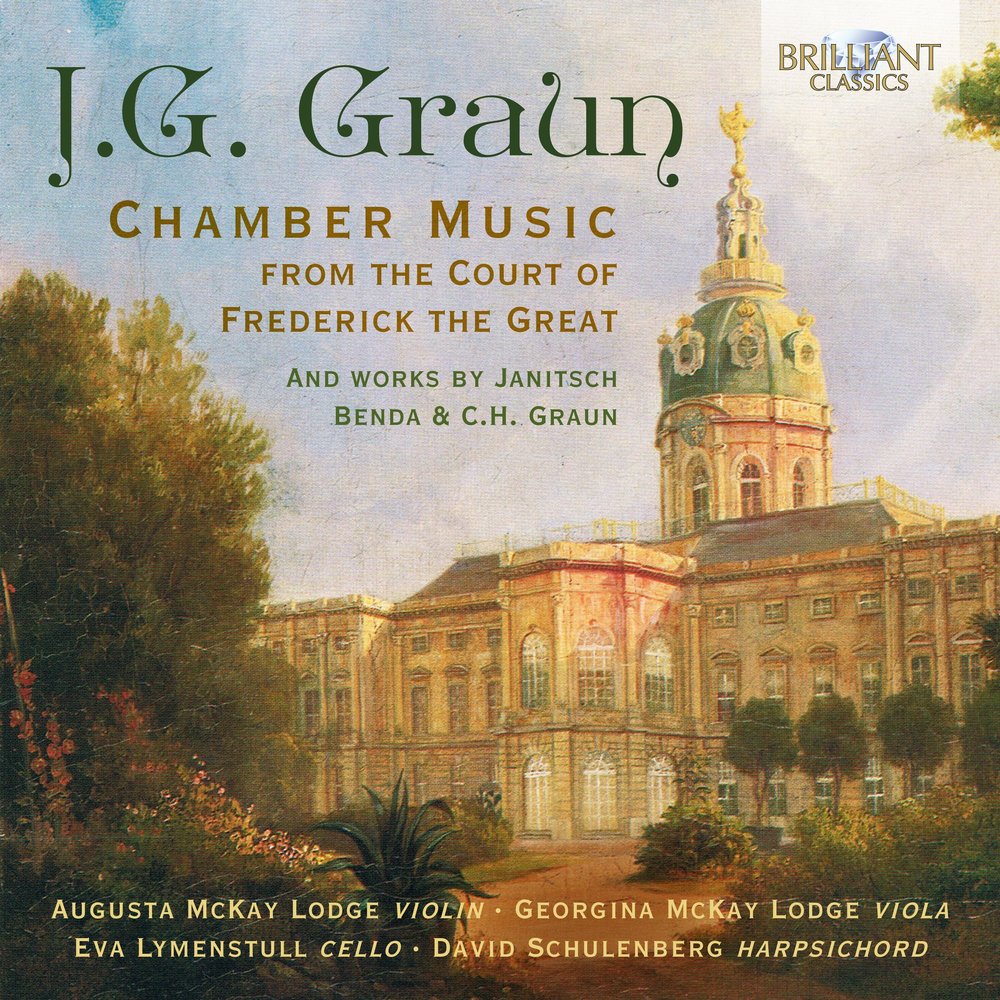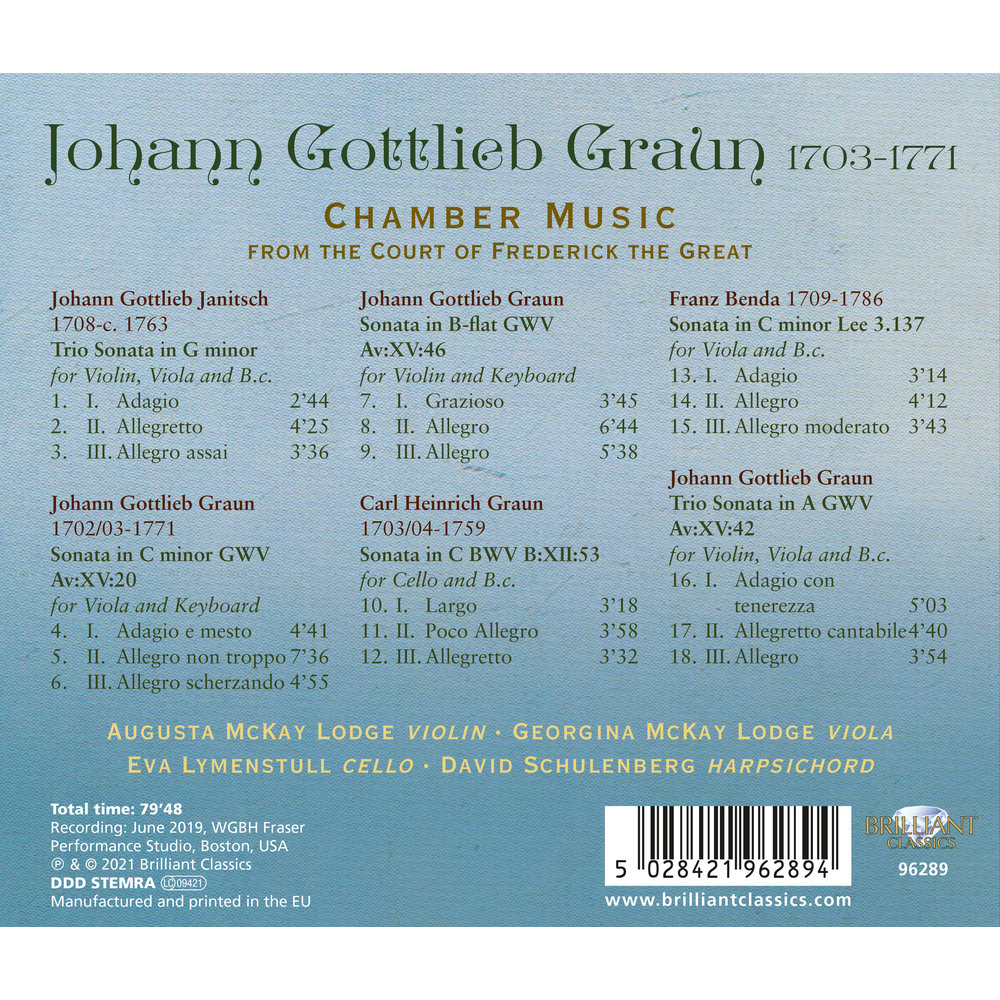 J.G. Graun: Chamber Music
Augusta Mckay Lodge, David Schulenberg, Eva Lymenstull, Georgina McKay Lodge
| | |
| --- | --- |
| Componist | Carl Heinrich Graun Janitsch Benda,Jiri Antonin |
| Label | Brilliant Classics |
| Aantal | 1 |
| Sku | 96289 |
| EAN | 5028421962894 |
Voor de mooiste klassieke muziek...
....ga je naar KLASSIEK.NL
Gratis verzending vanaf € 25,00
Passie voor klassieke muziek!
Beschrijving
Virtuoze kamermuziek uit de 18e eeuw van vier componisten: Johann Gottlieb Graun (1702-1771), Johann Gottlieb Janitsch (1708-1763), Carl Heinrich Graun (1703-1759) en Franz Benda (1709-1786). Zij werkten allen voor de Pruisische koning Frederik de Grote, die zelf een fluitist en componist van professioneel niveau was. Hoewel deze muziek waarschijnlijk niet voor de koning zelf werd uitgevoerd, is zij bewaard gebleven in manuscripten die verbonden zijn aan één van de muzikale "academies" die tijdens en na zijn regering (1740-86) in de Pruisische hoofdstad Berlijn ontstonden. De wortels van de moderne concerttraditie lagen daar in semi-publieke bijeenkomsten die niet alleen plaatsvonden in de huizen van bepaalde beroepsmusici, maar ook in die van de elite van de stad. Deze nieuwe opname presenteert een selectie van Sonates voor altviool en/of viool en Basso Continuo, geschreven op de grens tussen de barok en de klassieke stijl. Het zijn enkele van de vroegste kamermuziekwerken waarin de altviool als gelijkwaardige partner van zijn zusterinstrument, de viool, wordt behandeld. Ze vereisen een aanzienlijke virtuositeit van de spelers van beide instrumenten, terwijl ze een breed scala aan emoties uitdrukken, zowel gepassioneerd als teder. Gespeeld door violiste Augusta McKay Lodge ("the real thing, a true virtuoso" en "an exceptional violinist" Seen and Heard International), een internationaal prijswinnend barok- en modern violiste gevestigd in New York en Parijs, en violiste Georgina McKay Lodge, die op altviool optrad met Europese ensembles Les Arts Florissants, Holland Baroque, Camerata Øresund, Orquestra Barroca Casa da Música en het Orchestra of the Age of Enlightenment.